"Where you invest your love, You invest your life"
Those nine words mean more to me, then any other words in this world. Think about what you spend the most time thinking about, what you spend your time doing, who you spend your time with. Those are the places you're investing your life, your love. Today is kind of a weird day for me, Adam and I got married four years ago on this day, it's our anniversary. My answer to those three questions four years ago would have been Adam, Adam, Adam. Now they are Addy, My Health, Exercise, Family & Friends. Today my life is so much more whole and full of be-a-utifullll things, most importantly happiness.
Happiness is something I have found over the last twenty months, and 112 pounds. 289 pound Big Al was
miserable
. She was married to a man she didn't love, because he treated her so badly, she was lonely, she was depressed, she ate too much and didn't move enough. Motherhood overwhelmed her,
one thing that hasn't changed
, all she did was sit, eat, breastfeed, cry, sit, eat eat eat, oh and cook so she could eat.
Over the last twenty months I have gotten so much stronger, I have found my self again. The last seven of those months have been the most eye opening, I've grown in ways I never thought I would have to. Little Al is so strong, so happy, so confident. She is funny, she loves every single person in her life, and most importantly
she loves herself
!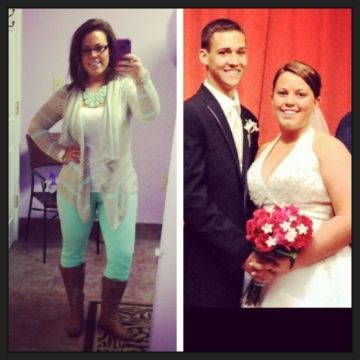 ______________________________________________________________
Now ya'll know I was upping my calories this week, sticking around 1600, 500 more then I'm used to. And guess what
I lost 4 pounds
. I know the scale and I were taking a break, but I mean, we have an on again off again reltaionship, clearly we are on again. And I couldn't be happier about it.
This week I feel like something seriously changed with my performance in crossfit. I was letting myself feel defeated during the WOD, taking breaks, thinking about how exhausted I was. That's something you can't do, think. For those 10 minutes the only thing you should be thinking is 8-4-2, 8-4-2, 8-4-2 nothing else matters. Last night we did dead lifts, situps, and burpees... AMRAP (
A
s
M
any
R
ounds
A
s
P
ossible. My max dead lift was 140 pounds, which I wish was more, I wanted to be able to do my body weight...next time I will!! Before we started our WOD I made a goal for myself to do 10 rounds, I did 12!! It makes me so excited to focus, and work hard. Stronger every single day and loving it! L O V I N G. There is something so gratifying about waking up sore and knowing you EARNED that feeling.