Happy Weigh In Wednesday Ladies
As you all know from last week, the scale and I broke up...and I've never been happier.In the words of Tay-Tay Swizzle "We are never ever ever ever getting back together. Like ever..." Okay, well maybe that's a lie...eventually I am going to get curious and get back on that B.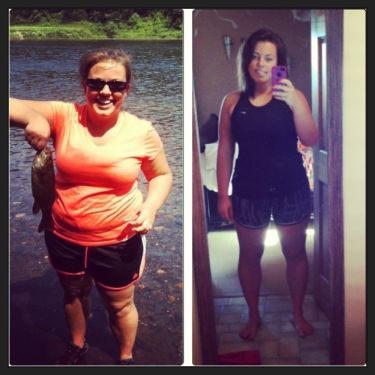 This week has been great, I have seen changes in my body already since starting crossfit a couple weeks ago...it is AMA-ZING how quickly it changes your body and your mind. I fit in pants I haven't worn since SR year of highschool, and oddly all my sandals are too big? I didn't realize my feet would get smaller as I lost weight, now I'm back in a size 6 1/2 or 7 instead of an 8, even smaller feet are as exciting as smaller pants!!!
Monday was a terrible, awful, no good, very bad day,
just the usual King pulling his stupid shit
I was practically in tears I was so pissed when I got there! By the time I left I had a smile on my face that didn't leave for the rest of the night. Our Monday work out was:
25 Thrusters
15 Air Squats
25 Thrusters
Walking Lunges with medicine ball
25 Thrusters
15 Air Squats
25 Thrusters
TWO ROUNDS...
It was absolute death, every day since a different muscle was sore. My fatique from that serioulsy affected my WOD yesterday, I had absolutely NO stamina and was so mad at myself. Getting dressed every day has been a process, I need super stretchy jeans...I even wore my yoga pants in public...I never do that. My tighs and butt are getting bigger, and my waist is getting smaller. None of those are a bad thing...except for the fact that I already had a big butt, and now none of my pants are fitting right, they're either baggy in the waist, or tight in the butt.
I'm just going to start wearing gym clothes every day
.
Last night one of my best friends Abby started. I am so pumped! When The King and I got together I completely ditched all my friends
yah I was that girl
Abby and I spent warm summer days in the pool, in the fort under her brother's train set, and just doing random weird stuff...normal 13 year old girl things yah' know.
Crossfit is completely changing my life in every way. I have never been so sure that I am doing the right thing, I have never been more willing to put myself out there and have FRIENDS again, I have never cared less about what The King and his Glee loving twelve year old girlfriend are doing in my bed...okay maybe that last part is a lie, but it's getting easier every single day.
I have been getting so much support & kind words lately, emails, blog comments, facebook love, and of course IG. I just have to give all you Divas a special thank you, you know who you are. You have been there with me every step of the way, I am SO lucky I am able to call ya'll my friends. You Rock My world!!!