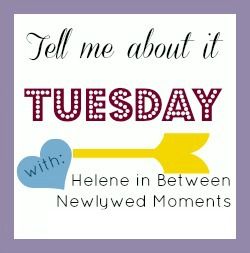 Today is "Tell Me About it Tuesday" and I am going to tell you about my weekend...exciting I know rite? But I promise it actually was interesting...
Tuesday is my Monday...
And boy it sure feels like it.
Did anyone else have trouble getting back into their routine this week?
I know when my alarm went off this morning I was NOT happy about it
I even laid in bed an extra 5 minutes trying to convince myself to get the eff up...
I have been lazy this holiday weekend, though Mandy Pants and I did do our sunday walk again. In the
f r e e z i n g
cold, but it was still nice to get out of the house. I put Addy in her snow suit, strapped her in the stroller, and off we went. Mandy and I thought it was
hilarious
Addy Girl looked like she wanted to kill someone, and literally wined for
at least
40 minutes of our 1 hour walk,
so I just parked the stroller on the side of the bike path and left her there till we were done
oops! I mean I thought about doing that, the entire walk...meanwhile we tried to convince her we were going to build a snowman, because clearly she was wondering "Mom, what the freak other reason is there to be in a snowsuit?" well there is still no snow on the ground, so that didn't happen. SHH don't tell Ad that you need snow to build a snowman...Eventaully I think she figured out we were not telling her the truth, so we had to switch and bribe her with a playground. Which was both adorable and effing miserable ((for me)) I would like to think of it as Karma, as Addy went down the slide laughing and smiling, I do believe she was thinking "ha Mom, stand there and freeze, don't worry we will build a snowman when I'm done, so be a good girl." She is the best, and I love her, even if she was a devil this weekend. Decorating the tree we couldn't keep her off the ladder, she thought it was the funniest thing
e v e r
I love that now when she does something naughty she laughs at herself, and yells at me "No Mom I Not" when I ask her to stop. I told you all I was married to
The Devil
...so we will just say she gets it from her fathaaaa.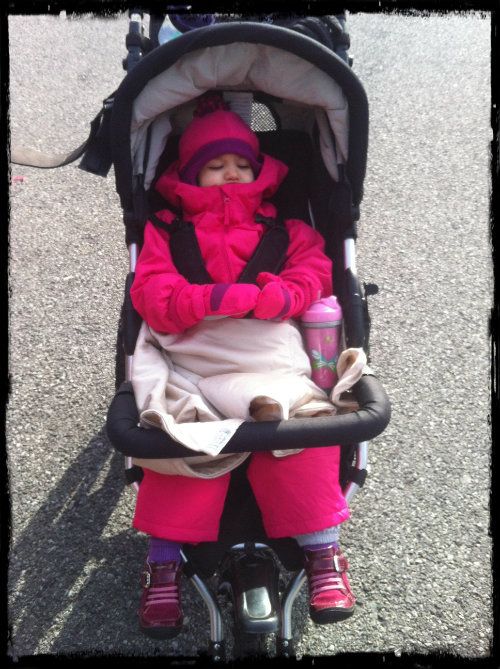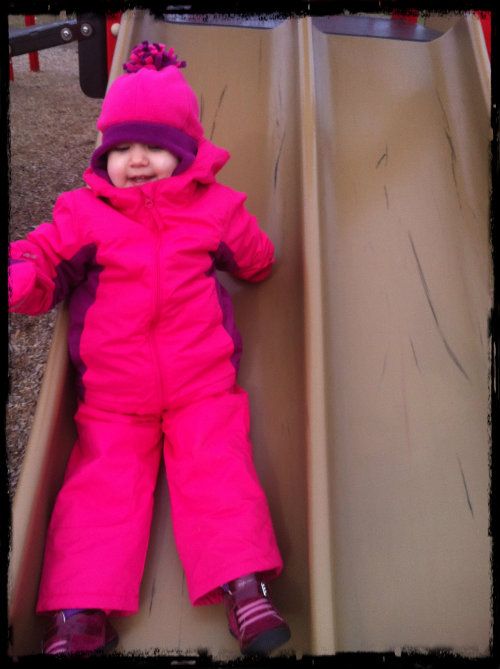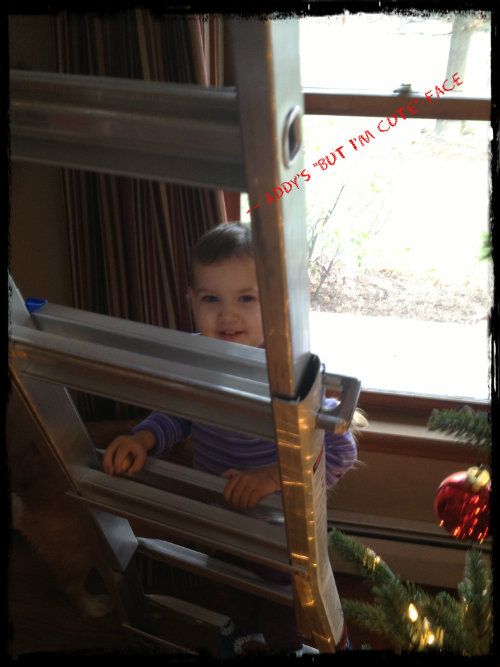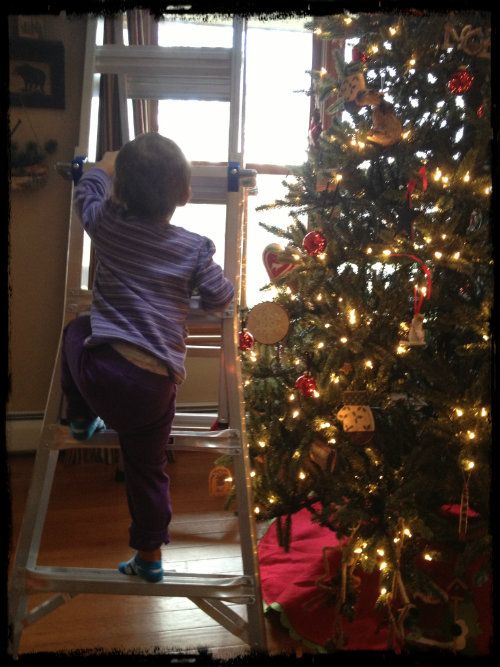 On Saturday our Breakfast with Santa, went well...you could say. Now, I
am a control faaaareak
like to have a plan. I always set myself up for failure, a l w a y s. I plan out how a scenario will go, usually I am taking a hit off the ole' crack pipe when I'm dreaming up these fantasy scripted moments, that we all know never go the way we plan
ESPECAILLY
with a toddler. Well, I thought my pretty pretty princess would be so excited, love her pretty dress, run rite into "Santy's" arms joyfully, and just all around have a good time. NONE OF THAT HAPPENED. She threw tantrums, because she was gonna do what she wanted to do, and if that meant scaling the Cristmas Tree covered in pink feathers and Disney Princesses, well that's what she was gonna do, and if she couldn'd do that she damn sure was going to yell at
anyone
and
everyone
that went near that tree. ((The event was held at "The Festival of Trees" an event put on every year, a bunch of people submit trees or wreaths with different themes, and they get auctioned off. All proceeds go to a school in our area for special needs children.)) I'm really not kidding, she stood by that flipping tree and yelled at the other kids "
No girl! NO my princess
" By the time we were there for 10 minutes,
my head was spinning and I had green goo spewing from every orfice in my face
I was wishing someone spiked the orange juice. I don't know who was the bigger brat in reality...
Me
or my child.
At least
she has an excuse...
she's two
...what's my excuse!?! I need to learn to let go,
and take my anti-psychotics on time
in order to avoid these type of circumstances.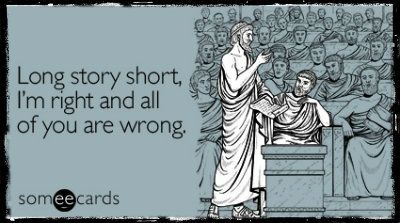 I have been a raging bitch for months, and my family in the last couple weeks has clued me in on that. Not so gingerly, that's for sure, BUT I needed a nice punch in the face, more then once. No, they didn't really cause any bodily harm, but they basically told me to cut the crap, put on my big girl panties (not to be confused with fat pants) and MOVE ON. Stop being a bitch, and get MAD. Use my struggle to find some progress. I am so blessed to have my supportive family, my amazing sistafranns, and my
sometimes
always
precious Adaline.
It could be worse, like for example, I could be living alone away from family, in a home surrounded by pictures of my wife and child, that my loving dedicated wife decorated, waking up every morning next to a nasty skank that will never ever be able to give me any thing close to the life that I threw away.
Sorry. Please excuse that last part, I have this new form of turrets, instead of swer words, I spew bitter evilness from my oral pore.
So from now on I vow not to:
Call, text, email, stalk, or make excuses for Adam.
Take my family for granted.
Share my babymammadramma with my friends
...all the time
Look for something positive every time I have a negative thought
P R A Y to stay confident in God's timing & be patient
Look for the bigger picture
Look only forward and stop looking back

Now, for some MORE Pictures of the weekend, they are blurry as can be, and not that good, because SOME idiot cough
ME
cough forgot to put the memory card in the camera...it was the cherry on top of our Saturday morning.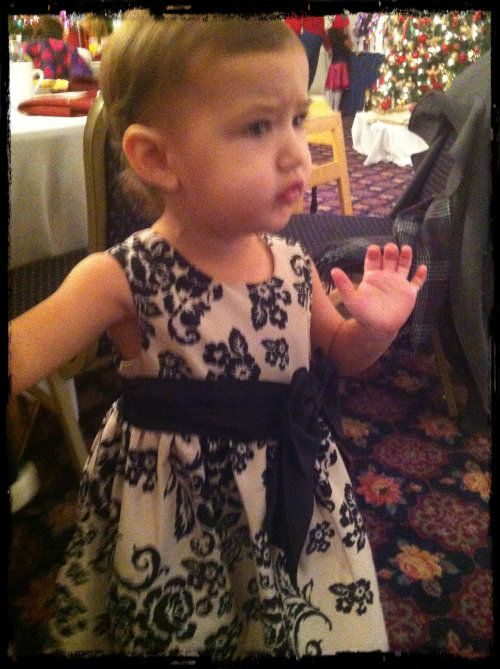 I'll just give Santa an "air five" thankyouverymuch